Where the Wine Is
WTWI is devoted to wine education, training and storytelling through blogging and podcasting.
Wine is our passion, and our mission is to share it through relatable stories, humor, food, and engaging content.
The WTWI Story
My wine journey began in earnest during my honeymoon in Napa Valley, where I experienced wine country during the height of harvest season.  The deep appreciation I gained on that trip led to wine becoming a hobby upon returning home.  It also grew into the star of my personal blog, which I wrote mainly for friends and family until some posts about wine gained traction and began opening doors in the local wine community.  That blog has since gone dark, but it put me on the path from enthusiast to professional.
In the fall of 2016 I became a Certified Specialist of Wine, a well-regarded and internationally recognized title.  Wine is now a subject of serious study and I look forward to continuing my education, as I intend to be a lifelong student.
I am learning so much during the course of my research, especially with regard to Idaho wines and winemakers.  As someone lucky enough to live (and drink!) in this state, I'm going to let you in on a little secret: Idaho wine is kind of a big deal. The pieces are coming together right now.  The number of wineries in the Gem State has risen from 11 to 50+ since 2002 and should steadily expand as more grapes are planted. The consumer base continues to grow and the industry is taking note.  The secret is getting out. This IS happening and it's an exciting time.
My home life is spent with my giant dog Lindsay, my kitty GoGo, and my husband Nick, who acts as editor and quiet contributor to this blog.  As a published author and grammar guru, he challenges me to be a better writer and saves me the embarrassment of mixing up words like their, they're, there. He's the Chardonnay to my Cabernet!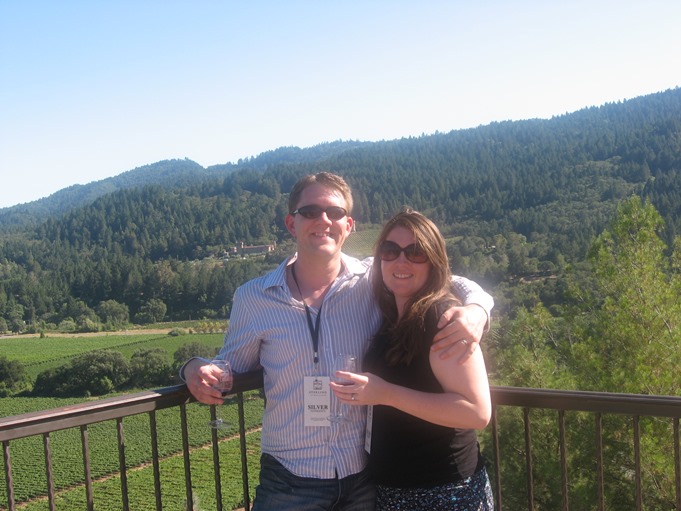 Topics covered on the blog
Wine, uncorked – Demystifying and dropping knowledge on all things wine.  History and terminology, purchasing tips, the differences among varietals — if it's wine-related and interesting, I'm game to write about it.
Idaho, uncorked – I live and drink in Idaho, where an emerging wine industry finds itself in the midst an eventful era.  Here's where I'll share regional news and post reviews of local wine.  I'll also publish interviews and firsthand accounts from area wineries and winemakers.
Cooking, uncorked – I love to cook  and share my favorite recipes, especially when they're improved by a splash of wine.
Life, uncorked – This is where I pour myself a glass and share the more personal aspects of my wine life, wherever it takes me.
The WTWI Podcast
The Where the Wine Is podcast is dedicated to wine education, training and storytelling.  Get to know the doers and dreamers working in the Idaho wine industry and witness an emerging region growing from infancy to world player.
Thank you for visiting!
To get in touch with me please see my contact page.
I also invite you to join many other wine lovers and subscribe to the Where the Wine Is Weekly, a newsletter that gives you a little more wine in your glass!
Cheers!